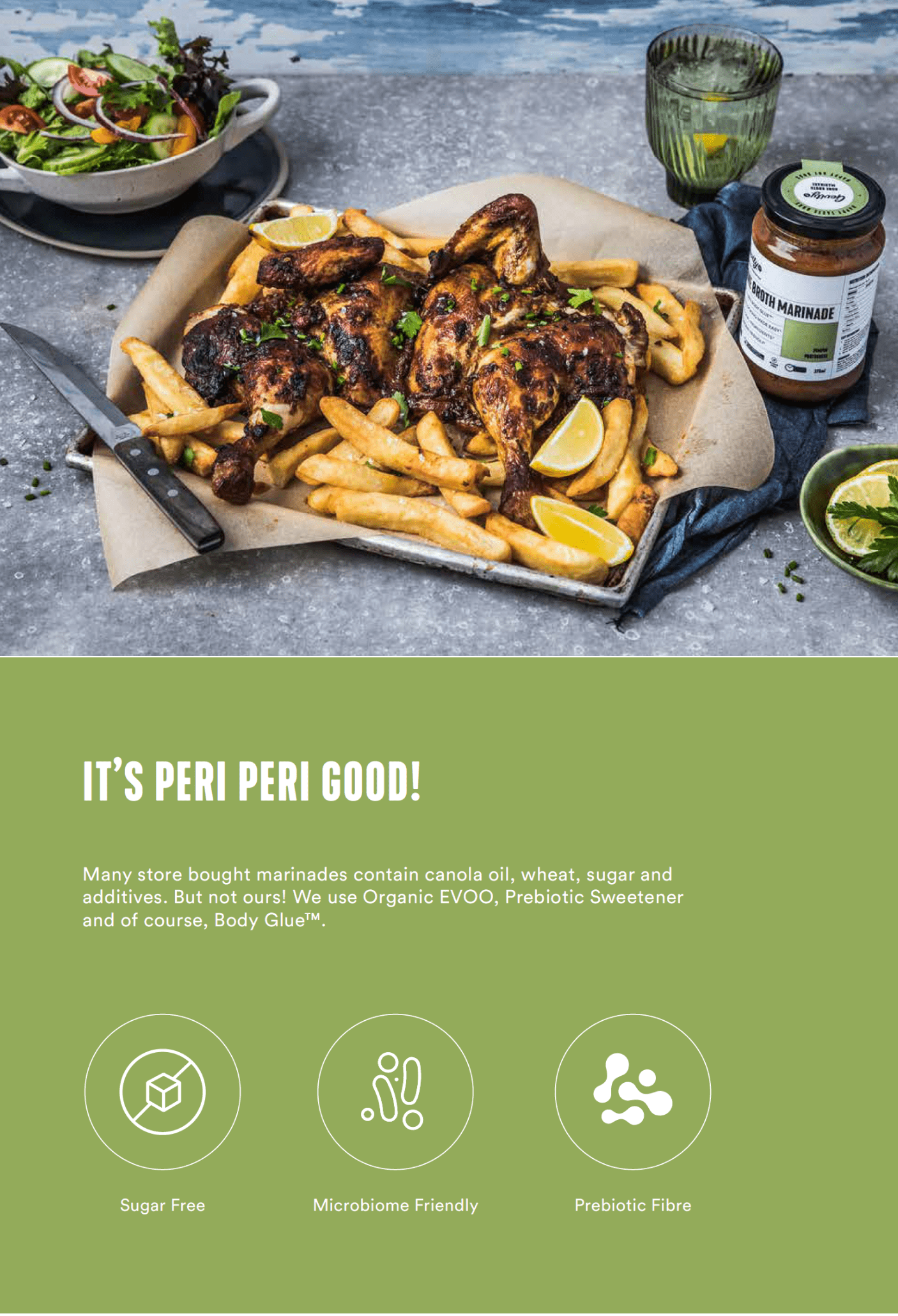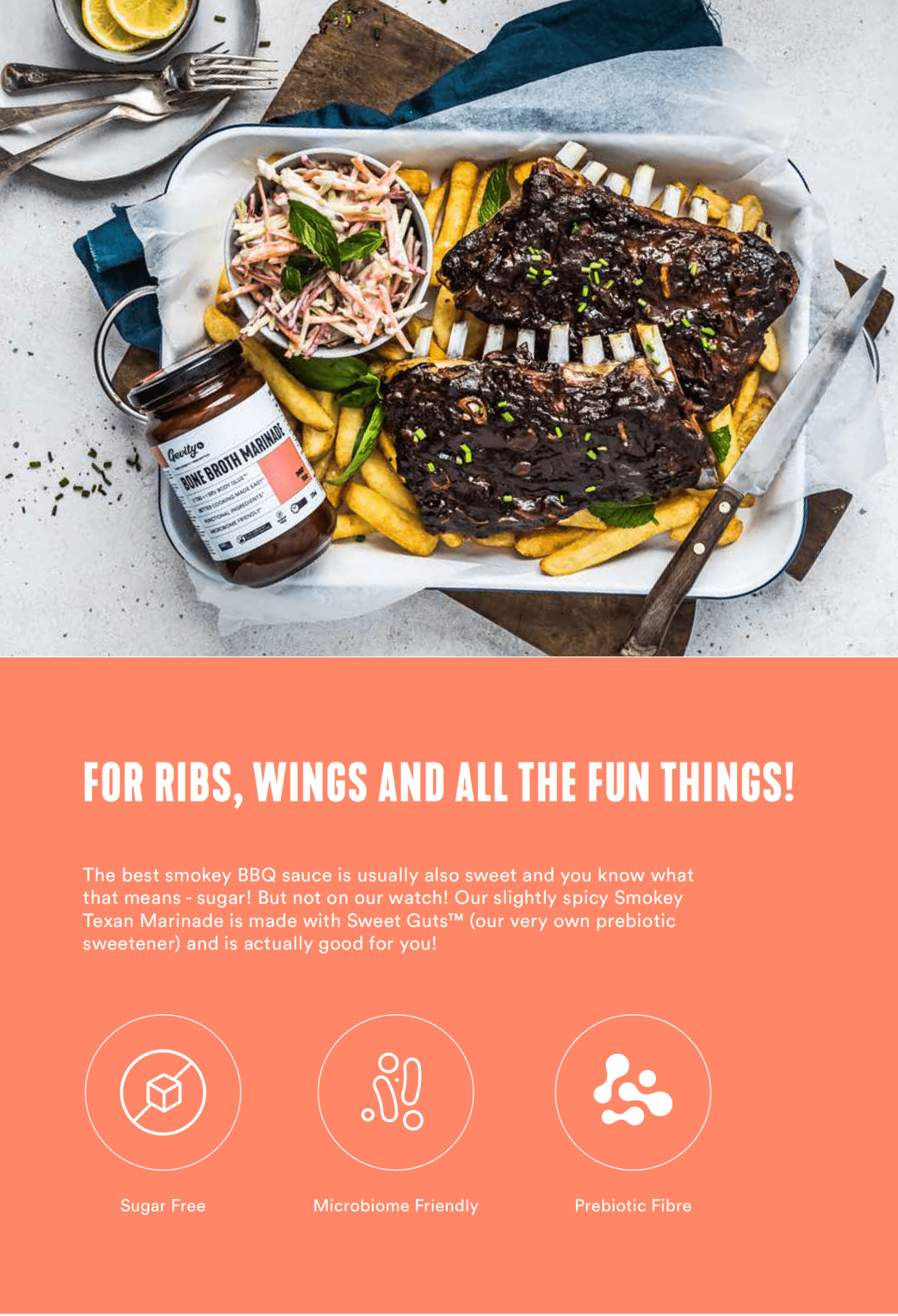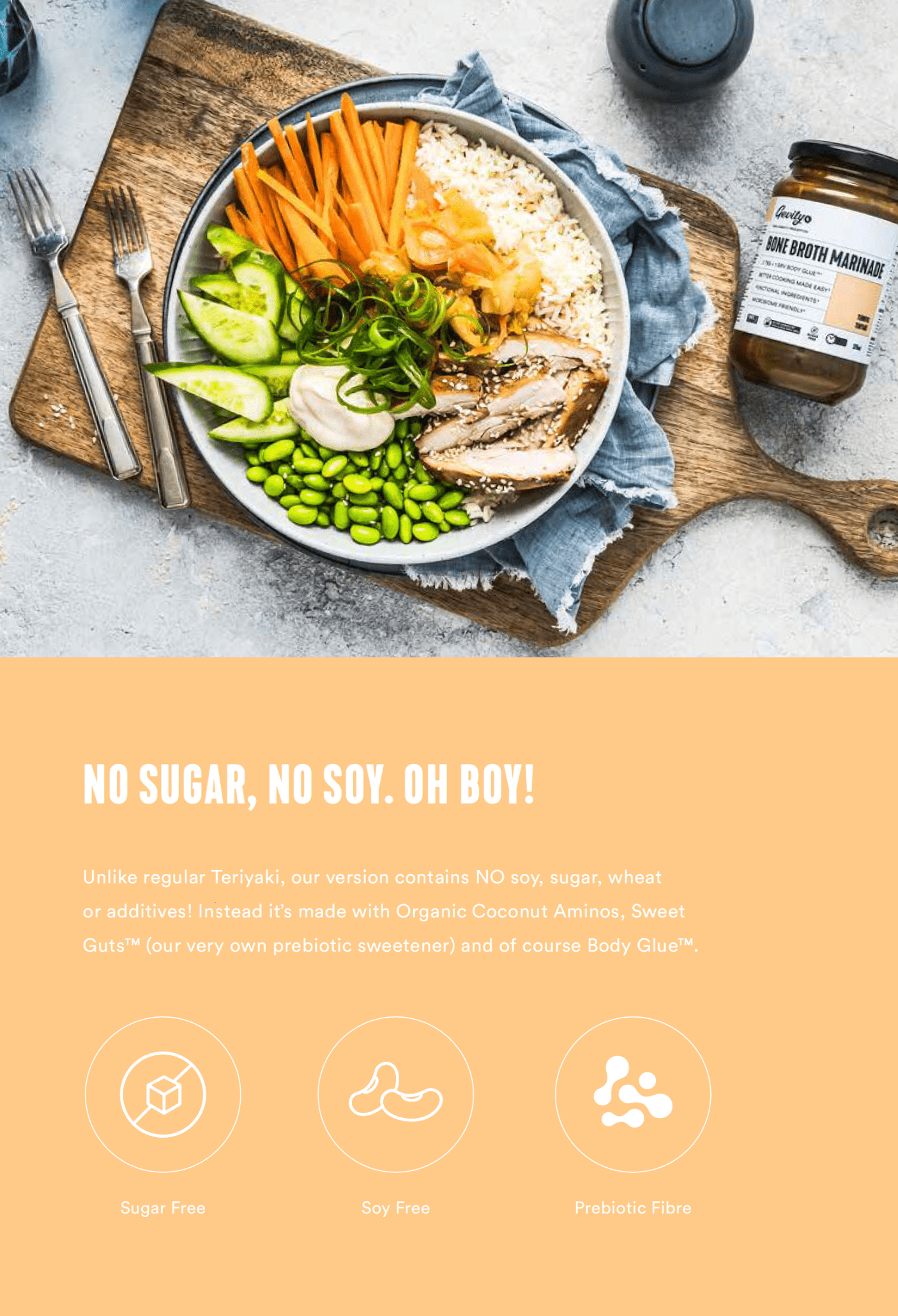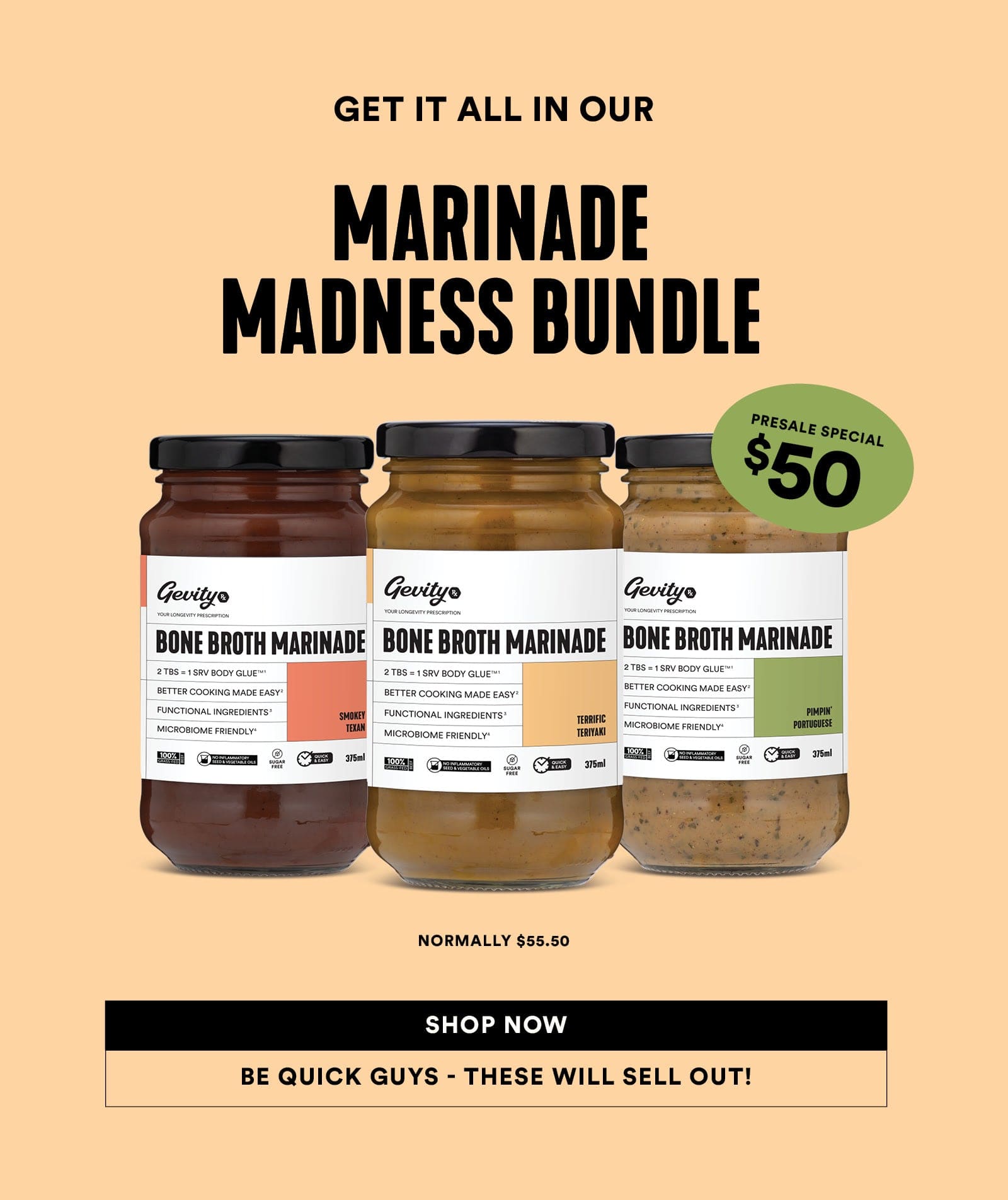 Each Bundle Contains:
1 x TERRIFIC TERIYAKI - "NO SUGAR, NO SOY. OH BOY!"
Gevity Rx Teriyaki Difference

- unlike regular Teriyaki, our version contains NO soy, sugar, wheat or additives! Instead it's made with Organic Coconut Aminos, Sweet Guts™ (our very own prebiotic sweetener) and of course Body Glue™.

Best with

- everything tastes better with Teriyaki! Chicken, beef, fish and vegetables.

Pairs well with Great Guts Mayo (Hello Teriyaki chicken bowl).
1 x PIMPIN' PORTUGUESE - "IT'S PERI PERI GOOD!"
Gevity Rx Portuguese Difference - most store bought Portuguese marinades contain canola oil, wheat, sugar and a host of unnecessary chemical additives. But not ours! Pimpin' Portuguese is GOOD for you - Organic EVOO, Prebiotic Sweetener and of course, Body Glue™.
Best with - chicken, fish and seafood are all great choices. Try marinating a whole butterflied chicken for a Pimpin' 5 star experience. Serve with fries and Great Guts Mayo.
1 x SMOKEY TEXAN - "FOR RIBS, WINGS AND ALL THE FUN THINGS!"
Gevity Rx Smokey Difference

- the best smokey BBQ sauce is usually also sweet and you know what that means - sugar! But not on our watch! Our slightly spicy Smokey Texan Marinade is made with Sweet Guts™ (our very own prebiotic sweetener) and is actually good for you!

Best with

-

pour it on ribs, chicken wings, almost anything!

Pairs well with Better Belly BBQ for extra smokey-ness!
Please refer to individual product pages for nutrition panel and tips (launching tomorrow)
Easy Instructions

Generously cover meat or veg of your choice with marinade and refrigerate for a min of 20 mins before cooking. For extra tenderness and flavour, marinate overnight in the refrigerator.

Simply grill, BBQ, pan-fry or bake to your liking, basting regularly while cooking for stronger flavour.

Serve, drool and enjoy!
* Tip - stack with your fav Bone Broth Sauce for the ultimate experience.
I love it! Especially with prawns, chicken and salads. It is so delicious and you don't even know it's good for your gut
Larissa A
"I had spent months looking for a bone broth that delivered on taste and quality! I love that it is grass fed, organic, and makes me feel fantastic! The price for this product is also spot on, I'm not spending a fortune to take care of my overall health! Thank you for creating wonderful products!"
Alyssa B
THE GEVITY Rx DIFFERENCE
Our sauces are a delicious, convenient and ultra-nutritious addition to your health routine. Combining the nutritional power of Body Glue™ with a range of nature's most potent superfoods, our sauces turn traditional recipes on their heads to make healthy eating simple for the entire family.
5 for your guts to thrive: